Stories & Testimonials
Ludwika "Ludy" Goodson
Hi! and welcome to my story!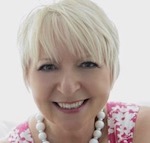 I think of myself as a sunshine-beach girl, though I actually can't yet have much time at the beach. I like to keep a mind of playfulness. Dorothy Dobbins, who edited an earlier introduction of me for our church, called my journey "peripatetic." She did this because my education and career took me from Texas, to California, Iowa, Canada, Florida, Georgia, Indiana, and back to Florida. Heraclitus said of our life flow: "We both step and do not step in the same rivers." This I take to mean that my life changes as soon as I write about it.
At our Unitarian Universalist Congregation in Ormond Beach, I sing with the choir, serve on the Worship Committee, help with Sunday services with RevKathy and speakers, set up UU Cafes of music and poetry and fun, and enjoy working on the website with co-chair and President Kathryn and Vice President Julie. Ours is a robust music community. Here are a few of my musical friends.
As for the peripatetic journey, I was born in Conroe, near the small farm that was our home in Magnolia, Texas to a young Polish girl and U.S. soldier after the end of WWII. There were cities in between, but most of my childhood, I lived in big Houston and where I have a few school memories. Below is a little photo journey from Wharton and Montrose Elementary, with chalkboard and school patrol duties; to Holy Rosary with jump rope games and nuns wearing crucifixes, white habits, and who had rulers growing out of their hands for smacking "sinful" children; to Magnolia Middle School where I had been fascinated with microscopes, chemistry, and biology; and back to Houston, to Sydney Lanier Junior high with volleyball games and the rich kids in the stairwells talking about playing tennis, and then to San Jacinto High. Throughout middle junior and high school, I played basketball, volley ball, and tennis, and wrote poetry.
At San Jacinto, English and Spanish buzzed excitedly in our hallways as soon as the bell rang between classes. I was on the debate team alongside Jewish, Catholic, Christian, and Atheist classmates, rich and poor, dark skinned and light. It was the best mix of my early school life.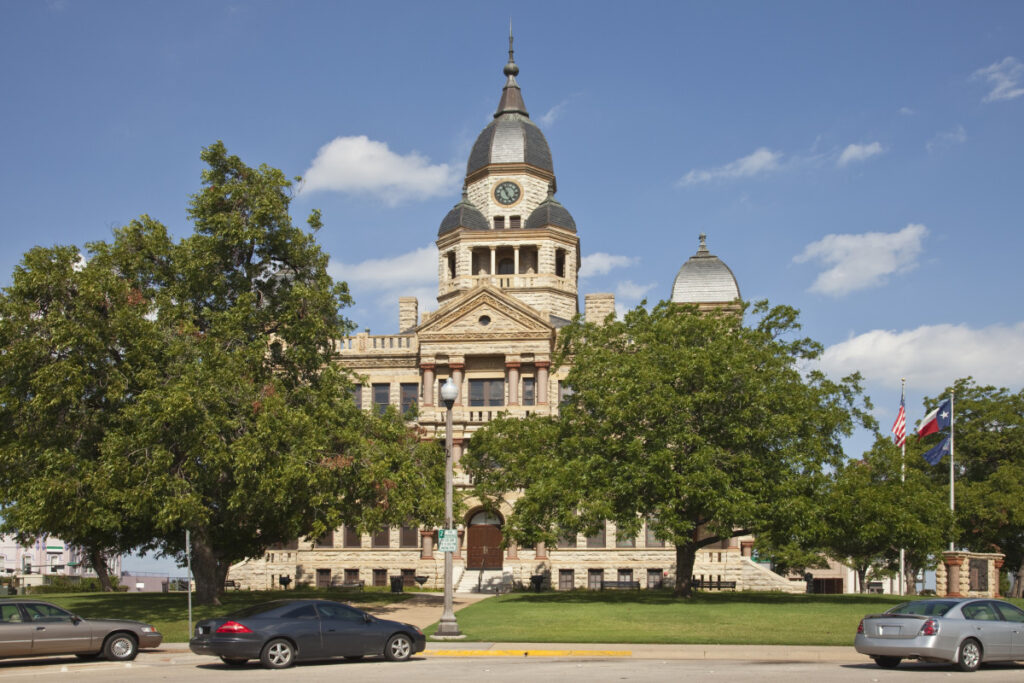 The debate coach and school counselor joined together, made me take tests to send off to colleges, helped me get multiple scholarships, and have a choice of schools.For all their faith and determination, with scholarships, loans, and a job, I left my Houston home of poverty to join the debate team at North Texas State University in Denton, Texas. That has made all the difference!
After one year in college, I flew west to Berkeley, California, became a 17-year old bride, part-time college student at Merritt Junior College, and part-time bookkeeper at Maggini Chevrolet. Three years later, I became a debate team scholar once more at Iowa State University of Science and Technology in Ames, Iowa. We hope all this education has value! Winters were mighty cold! Tornadoes kept me alert at other times! Another three years passed, and I became an Educational Technologist at Sir George Williams University in Montreal, Canada. There, at the nearby St. Hubert airport, I earned my VFR pilot's license and have lived to tell the tale! The last leg of my formal education took me to a doctoral program of instructional systems design at Florida State University. It was eye-opening to find two of the scholars I admired from my studies in the ed tech program to be quite so human, one of them frequently losing his temper, so hotly once that he threw a phone across the room. The other gentle with a brilliantly practical mind.
Tallahassee became my home for thirty-three years, much of the time working at the FSU Educational Services program and Office of Distributed and Distance Learning, and becoming a "nonbiological" mom to three now-adult children and adoring aunt to several nieces and nephews. While in Tallahassee, I started a 10-year business called Instructional Systems Design. With my team of employees and advisory group, I created the first certification exam and training curriculum for behavioral psychologists in Florida, and re-envisioned a model of service delivery, strategic plan, and protocols for human services.
I began acting at Tallahassee Little Theatre, singing with the community chorus and UU church choir we called The OK Chorale. We rehearsed in my home for a while, once a chorister making up a song when a toilet seal had broken he titled "Fixing Ludy's Loo". In my career of teaching, consulting, course design, and supporting faculty in higher education, I found my way to Georgia Southern University, to Embry-Riddle Aeronautical University, and for nine winters to Purdue University Fort Wayne. While in Fort Wayne, I visited Daytona Beach in the summer, usually staying with friends Gaia and Kurtland, and Gaia would prep me for singing with the choir on Sundays, then poof, I'd be gone and return to Indiana. Still longing for the warm sunshine and friends here, I "retired" in late 2018 and returned. My academic life followed and I took one more year to write the 2nd edition of Online Teaching at Its Best with co-author Linda Nilson. I also remain an external evaluator for NSF and other STEM-related programs. I don't yet know the meaning of "retirement".
Besides our beaches, singing in our choir, solos and duets, listening to our talented musicians, singers, karaoke with friends, and enjoying our UU Cafes of festive music and poetry, I met on February 23, 2019, and have since then, become engaged to the charming and brilliant Stephen Estabrooks! He is a songwriter and author! His books are more fun, like the one about a young whale's journey to Nantucket. Should I tell you about Kathryn and I working on his website? Nah! That can wait!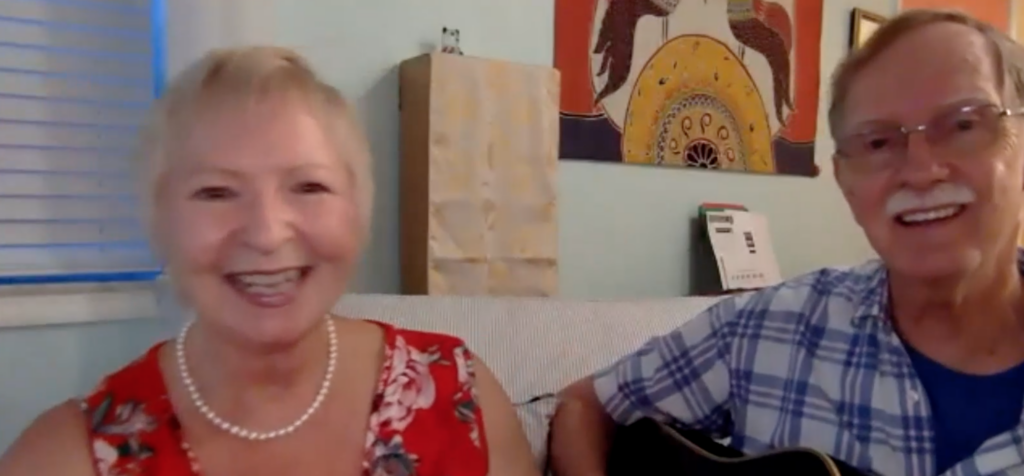 Sincerely and joyfully, I'm looking forward to meeting you!
— Ludy
My Name is Kurtland
| | | |
| --- | --- | --- |
| | "Kurt" | A wise man once said to me, "If your passion in life matches the meaning of your name, then your life tends to be more focused and congruent." |

Our Native American brothers and sisters would certainly agree. Most indigenous peoples change their name at least four times. Each new name honors and celebrates the diversity of each individual in an ever-changing universe.
I have used many names in my life. First I was Little Georgie. Then in school I became Big George because my best friend was shorter than I was, so he got stuck with Little George. Then I used Lawrence or Larry in college and career. But until my last choice, my names never came close to mirroring my passion. Why? Simple. I had no idea what my passion was until late in my life.
At the age of 53, I began my first Native American vision quest with a week of group ritual, solo fast, and meditation. My intention was to create for myself a rite of passage from adult to wise elder. In the Native American tradition, when you complete a rite of passage, you welcome a new name. On the third day of my quest, I heard the name "Kurtland," as clear as a bell.
When I returned home, we researched the name and discovered it means "brave wise counselor of the land." At that time, I was a counselor in an alternative high school. I had just started to learn how to let the natural world teach these wounded souls what they needed to heal themselves. And I began to understand myself and how I had come to this new, but old, knowledge.
I grew up in a tiny Pacific Northwest town in a house on the bank of a wide river with a waterfall. In summertime, we stayed in a cabin on a clear, cold lake fed by springs and melting snow. There I often floated on my back, looking at the evergreen-covered mountains all around me, and a deep blue canopy with fluffy white clouds above. At times the clouds turned to black anvil-shaped demons. I sweated through hot and stormy summers, delighted in bright colors of the fall and spring, and shivered in cold and snowy winters.
Most of my days buzzed with life! Birds sang, squirrels chattered, snakes slid through dry grasses. When things weren't going right at home, I turned to the woods and lakes. This natural world calmed me, supported me, helped me to breathe and to heal.
But then I launched into the American dream–a good education, good job, wife, children, a house in the suburbs, a bigger house, a better car. Still I wasn't happy. Many years after, I rediscovered my passion for nature, accepted my new name, and enjoyed the most productive, effective and satisfying years of my teaching and counseling career.
When I first came to the Unitarian Universalist Congregation of Ormond Beach, the one acre wild area next to our sanctuary called out to me – the pine, oak and scrub hammock. And, for the past fifteen years, I helped it stay wild and healthy.
With others in the congregation, we have lovingly controlled the invasive plants and kept the trails open in this small piece of heaven.
We added local native plants in two garden areas to attract pollinators. And, I use this ecosystem to encourage humans to allow the non-human entities to teach us what we need to know in the present moment.
I invite you to come and spend time in our hammock. There are wonders hidden in every corner–birds, both flashy and sedate; tiny flowers and amazing purple beauty berry bushes; armadillos and squirrels; and lizards and butterflies.
Breezes and high winds rustle through palm fronds. A gorgeous dense canopy gives shelter. And, a deep blue sky and puffs of clouds float high above.
In my mind's eye, I can see you there, too.
Kurtland